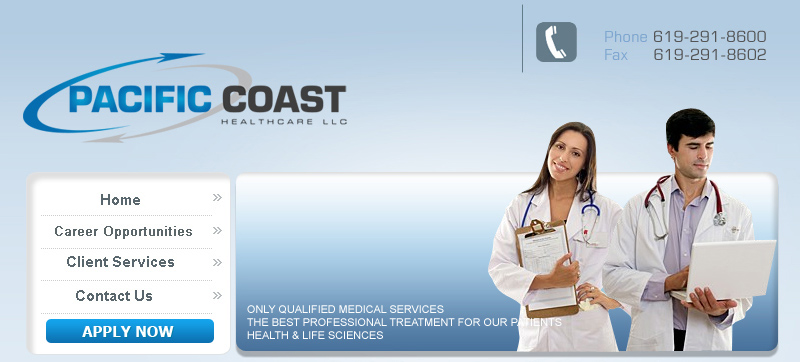 Nursing Opportunities
Per-Diem supplemental staffing
Are you looking for per-diem nursing assignments?  If so, you have come to the right place!  Pacific Coast Healthcare Staffing is the employer of choice for healthcare professionals in California and Arizona. It's quite simple; we take care of our nurses.  We meet their individual needs and accommodate their unique situations.  Together we can come up with a schedule that fits your lifestyle and at the same time provide you piece of mind.  That way all you have to focus on is the patient!  We provide per-diem staffing opportunities to RNs, LVNs, C.N.As, and allied health professionals. We work very closely with top healthcare facilities in California and Arizona. Whether you prefer hospitals, nursing homes, or clinics we have something that fits everyone's needs.  So give us a call today and see what we can do for you!
Contact us:
info@pchsd.com or at 619-291-8600
Travel Nursing Positions
We know it's hard when facing the task of making the decisions about moving to a new place for a travel assignment.  Questions arise like:  Where do I want to go, where should I live, what work is available, are there benefits, what types of activities does the city have to offer?  We know there is more to life than work, especially when you are traveling to a new destination for 3-6 month periods. It's an adventure, and we would like to be able to answer any questions you may have to make your travel assignment seem like a vacation.
Allied Health Staffing
Pacific Coast Healthcare Staffing, provides contract, per-diem, temp-to-perm, and direct hire Allied Health personnel to facilities throughout California. We invite you to discover what makes Pacific Coast Healthcare Staffing one of the leading Allied Health staffing agencies in California and Arizona. Please contact us for available contract, temp-to-perm, per diem or direct hire positions.
Contact us:
info@pchsd.com or at 619-291-8600